Biography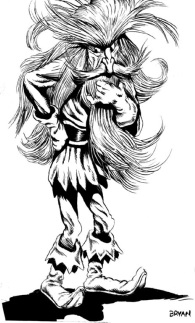 Bill Bryan has drawn, designed, sculpted painted, written or acted for some client or publication for the better part of the last thirty years; as a child, adolescent and adult. His father among other practices was at one time an oil painter and actor. This provided Bill with great inspiration. As a small child Bill studied Disney features, Looney Tunes and Fleischer's Popeye cartoons as early inspirations. As an adolescent he added adventure comics and horror comics to his curriculum along with the already fascinating animation and caricature. Bob Montana, Johnny Hart, Jack Kirby and Steve Ditko were among many comic art influences of the time.

Before entering his senior year in high school, Bill was already creating commercial cartoons for signs, business cards, van murals and doing portraits in restaurants. At the age of nineteen, Bill spent some time in New York City doing specialty work and contributing to The House of Mystery, Crazy and Mad magazines. He also did occasional background and color work for some of the artists at the Continuity Studio of Comic and Commercial Art. In just a short time Bill received help and in-between project training from the artists at Continuity.

Bill has done designs, storyboards and occasional acting in films, The Carrier, Cleavland Smith, Them!, Zora and That Special Gift. Most notably, Bill did complete storyboards for the Disney Channel production of Tiger Town, starring Roy Scheider. Bill's theatrical experiences (which include a Leonard Bernstein musical at Wayne State University with full orchestra) have given him a unique body language, costuming flair and an eye for lighting. His commercial art projects have tempered him for human characters, all of which is displayed in his comic art.

Bill has been a participant for several years at the Michigan Renaissance Festival, drawing portraits (fantasy or realistic). He has given in-studio and correspondence art courses. Several comic art collectors have original sketches by seeing Bill at local and out of town comic conventions. Bill's sculptures have gone from wax and clay to custom made puppets or action figures. They've sold from his studio and have been on exhibition. The poseable sculpture are wire-based figures with sculpted, painted heads and complete hand made costumes. They inhabit many homes as do his personalized fantasy portraits.

Among the artists and celebrities, past and present, who own Bill's portraits are Jimmy Stewart, Jerry Lewis, Mel Blanc, Mel Brooks, Eartha Kitt, Sid Caesar, Robert Altman, Elliot Gould, Robert Klein, Leonard Maltin, John Romita and Weird Al Yankovic.

Bill has illustrations along with Gary Reeds' writing in an issue of St. Germaine published by Tranzfusion . It is a "Hunchback of Notre Dame" adaptation. A story involving john Wilkes Booth is upcoming from the same company.

He has recently submitted two pages in the publication "Grave Soldiers". He has done an illustration of an artist and soldier in the medieval poetry magazine, "Krows Keep" and illos for a calendar for Rick Maynard, depicting his fantasy adventures. Rick does work as a professional Santa. Bill is working on two fantasy novels and outlines and designs for his personal comic stories.

---